Seth Kellogg, PG, details work on PFAS and what to say when customers seek advice regarding it.
By Thad Plumley
There is no doubt PFAS are in the spotlight right now. Whether it is a news item about contamination being found yet again, a lawsuit to pay for cleanup, or even a movie on the subject starring Academy Award winners, PFAS are never far from the headlines.
Even when Water Well Journal delivered a special alert email to readers last month containing an article about coronavirus, the article was the second most searched term on the magazine website that week. No. 1, of course, was PFAS.
That's why we think now—when WWJ's issue focus is water quality and water treatment—is the perfect time to catch up with Seth Kellogg, PG.
Kellogg is a senior geologist at Geosyntec Consultants Inc. in Ringoes, New Jersey, and has more than 25 years of experience in evaluating complex contaminant hydrogeology and groundwater/surface water interactions, including large groundwater and sediment sites in New York and New Jersey.
As PFAS have emerged as environmental concerns, Kellogg has worked with the National Ground Water Association to advance the industry's understanding and implementation of best practices. Just last month, she spoke on the effects of PFAS at a congressional briefing in Washington, D.C., that was attended by representatives from 30 congressional staffs.
Kellogg, who was elected to the board of the Scientists and Engineers Section of NGWA in 2016 and its national board in 2019, was one of the coauthors on NGWA's Groundwater and PFAS: State of Knowledge and Practice (NGWA Press 2017).
She also represented the Association at the U.S. Environmental Protection Agency National Leadership Summit on PFAS in 2018 and is currently working with other NGWA volunteers on a series of white papers about PFAS.
WWJ was excited to catch up with Kellogg recently to discuss PFAS, the hot topic of the day.
WWJ: As a volunteer working on NGWA's upcoming PFAS white papers, what is your goal for them upon publication?
Seth Kellogg, PG: When NGWA produced the first Groundwater and PFAS: State of Knowledge and Practice in 2017, the goal was to educate groundwater professionals on the state of the science. Over the past two years, the groundwater industry has made significant advances in the management, characterization, and remediation of PFAS. The PFAS white papers will allow updates on topics targeted to groundwater professionals, private well owners, and other groundwater users.
WWJ: What is your advice to contractors who are getting calls from concerned well owners about where to get their water tested?
Seth: There are many reputable laboratories which can perform PFAS analysis. The number of PFAS compounds reported and the laboratory turn-around time will be the primary drivers in the cost of the testing, with shorter lists and longer turnaround times being less expensive. One of the first PFAS white papers that is planned is one targeted to well owners on best practices for sampling and options for treating PFAS in private wells.
WWJ: Some professional groups recommend POU systems, while NGWA recommends POE. What would be the determining factors for each?
Seth: Point-of-entry (POE) treatment systems will provide treatment for all the water entering a structure and will last for months to years before requiring replacement. POE systems eliminate the concern of consuming water from untreated faucets and frequent point-of-use (POU) filter changes. In situations where there is only concern for treating water from specific faucets (i.e., the kitchen), and there is a plan for frequently changing the filter, POU systems can be a lower cost option.
WWJ: What types of filtration systems are most commonly recommended for PFAS?
Seth: The three most common types of filtration systems used for PFAS treatment are granular activated carbon (GAC), ion exchange (IX), and reverse osmosis (RO). The type of system that is most appropriate and effective for an individual well will depend on the amount of water you want to treat, the specific PFAS chemicals that are targeted for removal, and other chemical constituents in the water. For example, hard water with high mineral content may be incompatible with IX filters. I recommend working with a reputable groundwater professional to determine your water chemistry and design an effective treatment system.
WWJ: From your interactions, what do you think are the most common misnomers or misconceptions about PFAS?
Seth: I think the alphabet soup of PFAS can be very confusing and frightening. There are more than 4700 individual PFAS compounds, two of which have been identified by the U.S. Environmental Protection Agency as requiring a health advisory level. It is important that private well owners work with reputable groundwater professionals to understand if PFAS of concern are present in their water and if they require treatment.
WWJ: What advice would you give readers to combat calls from well owners considering it may be best to switch to city water?
Seth: As a private well owner, there are certainly responsibilities that we have that public water customers don't to ensure the quality of our drinking water. If a well owner is having issues with their well, they need to know there are several options for treatment. We talked about some of them earlier and many are cost effective. Before making the move to a public water system they should also know there are risks, challenges, and costs associated with aging public infrastructure as well as taste implications with chemical additives in public water.
Watch the April "Catching Up"
video interview
with NGWA Director of Science and Technology Bill Alley, Ph.D., who provides insight into ways water well contractors can ease well owner fears when it comes to PFAS.
WWJ: Lastly, what research are you seeing that makes you feel positive about the progress being made in PFAS remediation?
Seth: The current state of the science allows us to remove PFAS from water, but then the filter material (GAC, IX, or RO reject) needs to be treated separately to destroy the PFAS. The Department of Defense is funding significant research into destructive treatment technologies which would both work in the aquifer or at the point of treatment. The current challenge is that it takes a lot of energy to break down the chemical bonds in PFAS, so technologies need to become more energy efficient before they are practical for public use.
NGWA's Groundwater and PFAS Resource Center Educating Industry
PFAS have been on NGWA's radar for several years and will remain a priority issue for the foreseeable future. The Association has a
Groundwater and PFAS Resource Center
which includes PFAS FAQs, a top 10 facts about PFAS document, and a homeowner checklist, among other items.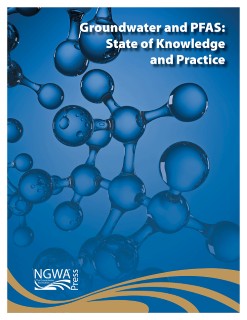 NGWA is also the publisher of the guidance document Groundwater and PFAS: State of Knowledge and Practice. The guidance document, created by 36 NGWA volunteers who spent 1100 hours on it over 12 months, is a comprehensive eight-part piece. It summarizes the fate, transport, remediation, and treatment of PFAS, as well as current technologies, methods, and field procedures. The guidance document is free to NGWA members and can be purchased by nonmembers in the NGWA Bookstore.
The Association is once again hosting an event about PFAS that will draw attendees from all around the country. The Fate of PFAS: From Groundwater to Tap Water Conference will take place August 5-6 in Durham, New Hampshire.
---
Thad Plumley is the editor of WWJ and director of information products at the National Ground Water Association. He can be reached at tplumley@ngwa.org, or (800) 551-7379, ext. 1594.