An interview on PFAS and the latest book from NGWA Press captured 2020 Awards of Excellence from Communications Concepts.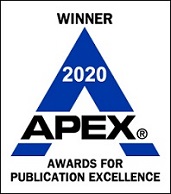 Water Well Journal® won for the article "PFAS Roundtable" in the Writing—Interviews & Personal Profiles category. Published in the April 2019 issue and coauthored by Editor Thad Plumley and Senior Editor Mike Price, it is an interview with four leading industry professionals about the groundwater contaminants, per-and polyfluoroalkyl substances (PFAS), that have been in the headlines the last few years.
The Art of Water Wells earned recognition for NGWA Press in the Print Media—Books category. The book authored by Marvin F. Glotfelty, RG, is a comprehensive overview of well systems ideal for anyone in the field. It has been a best seller since it was published in 2019.
This marks the 18th consecutive year WWJ has earned an award from Communications Concepts, a group that provides educational information for publishing and marketing professionals.
All told, the competition had nearly 1200 submissions in 100 categories.
WWJ has won 32 APEX Awards in its history, most in the groundwater industry. This marks the second time NGWA Press has been recognized. The book Transfer of Technology was honored in 2004.
"We're thrilled to be recognized once again by Communications Concepts," Plumley said. "The 'PFAS Roundtable' article is an important one as it provides information about a contaminant that threatens groundwater today.
"And to see The Art of Water Wells win is really gratifying. Marvin is excellent at explaining complex details. For his first book to win a national award is really something!"