The Groundwater Foundation is featured in a traveling exhibition, H2O Today, that opened at the University of Nebraska State Museum at Morrill Hall in Lincoln, Nebraska on January 26.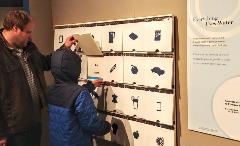 The Foundation is owned and operated by the National Ground Water Association.
The H2O Today exhibit invites visitors to explore the beauty and essential nature of water. Through immersive content, interactives, and digital media, the exhibition explores the diversity and challenges of our global water sources and promotes conversation, creativity, and innovation across disciplines. It explores the science of water from the water cycle, weather, and climate to its physical power in the world.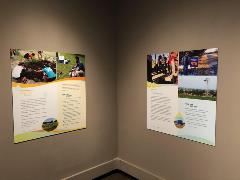 The Foundation provided content for two exhibition panels about Nebraska's groundwater, detailing how important it is people help protect the vital resource, and ways to get involved and act in their communities.
The panels included the success story of the Groundwater Guardian team in Beatrice, Nebraska, which has successfully established relationships with property owners in the city's wellhead protection area and reduced nitrate levels in the drinking water supply wells.
Established in 1871, the University of Nebraska State Museum is the state's premier museum of natural history. It is accredited by the American Alliance of Museums and a Smithsonian Affiliate.
The H2O Today exhibition is on display at the museum through August. It was adapted by the Smithsonian Institution Traveling Exhibition Service, which works to connect Americans to their cultural heritage through a wide range of exhibitions.
H2O Today is adapted from an exhibition developed by the American Museum of Natural History in New York. That exhibition, Water: H2O=Life, debuted in November 2007 and toured some of the world's leading museums for years.
NGWA's foundation, known at the time as the National Ground Water Research and Educational Foundation, provided a grant that enabled the exhibition to have multiple groundwater features. Among those were an interactive model that showed what can happen when two wells access the same aquifer, a three-dimensional video model that showed groundwater levels fluctuating under Tucson, Arizona, and an area showing off porous stones.