NGWA Press has three new items debuting at Groundwater Week 2018 — Groundwater: State of the Science and Practice, Employee Safety Manual, second edition, and Manual of Water Well Construction Practices, third edition.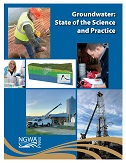 Groundwater: State of the Science and Practice, usually sold as an e-book, has been printed in a limited quantity specifically for Groundwater Week. The book consists of 20 short articles on a broad range of groundwater topics providing the latest on each. Authored by topic experts, subjects covered range from sequestration, geophysics, and groundwater modeling to well design and well maintenance. See the full table of contents by clicking here.
The other two items are updated versions of long-time popular titles.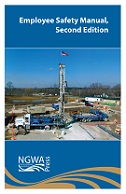 The Employee Safety Manual has been updated to reflect the groundwater industry today. At 5.5 X 8.5 inches and 48 pages, it is sized so groundwater contractors can conveniently keep a copy in their vehicles that they take to their jobsites. It is a companion piece to the more substantial Model Environmental Health and Safety (EHS) Manual, which features an entire company safety program on a CD. This CD will also available in the Groundwater Week 2018 bookstore.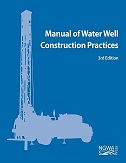 The Manual of Water Well Construction Practices was updated so the practices detailed in the text would be in line with current industry standards. The comprehensive book has long been an ideal study guide for those preparing for certification or state licensing exams, as well as an introduction to those new to the groundwater profession.
Located beside the Attendee Service Center, the on-site bookstore hours are:
3:15-4 p.m. December 3
7 a.m.-5 p.m. December 4 and 5
7 a.m.-1 p.m. December 6.
You can also view these titles and others in the online NGWA bookstore.