Alicia Wilson, Ph.D., professor of hydrogeology in the School of the Earth, Ocean, and Environment at the University of South Carolina, has been selected as the 2023 Darcy Distinguished Lecturer by The Groundwater Foundation and NGWA.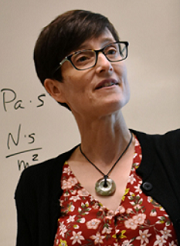 Established in 1986, the Henry Darcy Distinguished Lecture Series in Groundwater Science fosters interest and excellence in groundwater science and technology throughout the groundwater industry.
In her role as Darcy Distinguished Lecturer, Wilson will be traveling throughout 2023 presenting her lecture at universities and groundwater industry events across the country.
Wilson, who specializes in coastal hydrogeology, with a particular focus on coastal ecohydrology and submarine groundwater exchange, will be presenting two lectures throughout the year — "Subseafloor Hydrogeology: Moving Beyond Watersheds" and "Please Check Your Assumptions at the Coastline: 15 Years of Wading Through Salt Marshes."
"It is a real honor to have this opportunity to share my research and enthusiasm for hydrogeology, and I am very excited to get out and meet so many students and faculty this coming year," Wilson said. "I am certain that I will learn more than I impart, and I am very much looking forward to getting started."
Wilson holds a Ph.D. from Johns Hopkins University, an M.S. from Stanford University, and a B.A. from Dartmouth College. She held a National Research Council Postdoctoral Research Fellowship at the U.S. Geological Survey in Reston, Virginia, and a postdoc at the University of California, Santa Barbara.
The Darcy Distinguished Lecture is named for Henry Darcy of France for his 1856 investigations that established the physical basis upon which groundwater hydrogeology has been studied ever since.
Click here to learn more and to submit a lecture request online.