Fred Rothauge, CWD, of Hydro Resources, has been selected as the 2023 McEllhiney Distinguished Lecturer by The Groundwater Foundation and NGWA.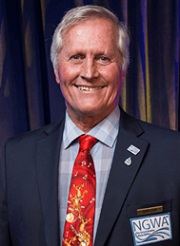 Rothauge's 2023 McEllhiney Lecture is titled "Are We Creating Long-Term Groundwater Assets or Just Installing Wells?" and will examine ways groundwater professionals can better communicate with their customers that water wells are long-term groundwater assets and therefore should be treated as such.
This includes discussions with the customer on initial planning; looking at material and construction costs; emphasizing proper development, operation, and maintenance; and how all these affect well rehabilitation. Rothauge believes that by engaging customers early in these discussions, groundwater professionals can reframe how customers view their water wells.
"I'm not only honored, but extremely honored, to have been selected by my peers at the National Ground Water Association to deliver the 2023 McEllhiney Lecture Series," Rothauge says. "I'm hopeful through my message I can inspire young professionals entering this industry, along with seasoned members, to take a closer look at the assets of a well and the importance of proper construction, development, and operation to meet future demand."
Rothauge has been in the drilling and drilling fluids engineering business for 40 years. He is a licensed water well driller in eight western states, past president of the Colorado Water Well Contractors Association, and current NGWA and The Groundwater Foundation board member. He has coauthored papers on drilling fluid products and is a coauthor for Johnson Screens' third edition of Groundwater & Wells. Rothauge also serves on the board for the Mountain States Ground Water Association and is chairman of the American Ground Water Trust. He oversees drilling fluids and well rehabilitation along with serving as technical advisor for Hydro Resources.
Click here to learn more and to submit a lecture request online.