The Illinois Association of Groundwater Professionals recently presented NGWA President Brian Snelten, PG, with its Sisson Award.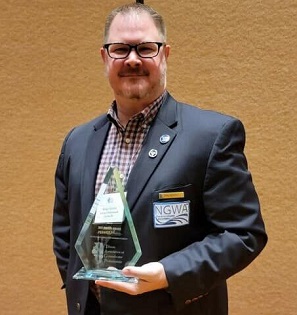 The award recognizes groundwater professionals who have gone above and beyond by sharing, educating, or mentoring to other contractors, regulatory agencies, or the public about groundwater, while actively employed in the industry.
Snelten, who served as president of the Illinois Association of Groundwater Professionals from 2012-2015, received the award during the state's 2022 convention and trade show, February 10-11 in East Peoria, Illinois.
Snelten is an area manager for Layne Christensen, a Granite Company, in Aurora, Illinois, and appeared on Illinois Farm Radio on January 27 promoting annual inspections and treatment of private water wells. He detailed various ways homeowners can maintain their private wells and the importance of using certified water well contractors to inspect and work on well systems.
Click here to read a profile on Snelten from the November 2021 issue of Water Well Journal and watch his video interview.