NGWA President Merritt Partridge was featured in a news story that aired on August 19 on cable channel CNBC that discussed the increase in water dowsing/water witching taking place in California due to the state's extended drought.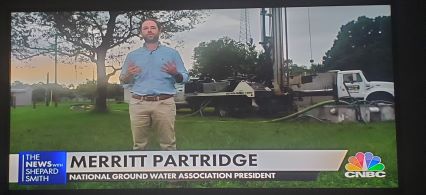 Water dowsing, also known as water witching, is a method of using a forked stick, rod, pendulum, or similar device to locate groundwater. NGWA has long been opposed to the practice — citing the technique is totally without scientific merit.
The CNBC segment aired on the primetime show, The News with Shepard Smith. Guest anchor Tyler Mathisen began by saying the drought is causing people to turn to unconventional means of finding water that some say are disputed ways.
The segment interviewed a dowser who said he was extremely busy, a vineyard owner who said he has used the dowser several times, and Partridge who stressed the importance of science and data when assessing water availability.
Partridge, the president of Partridge Well Drilling Co. Inc. in Jacksonville, Florida, was shown in front of a drilling jobsite and said: "I can understand in desperate times (people) might look for resources that improve their chances, but the facts are that using science and data to find (water) is going to provide more accurate results."
The segment follows a New York Times story on July 17 regarding the reported increase in water dowsing in California. In it, NGWA Scientist and Engineer Section Director Timothy Parker, PG, CEG, CHG, of Sacramento, California, cited that hydrogeologists and water well contractors use a combination of satellite imagery, geology, and drilling data to assess water accessibility and resources, "compared to dowsing, which is a person with a stick."
View the CNBC segment here
Click here to read the New York Times article.