Glenn L. Lyons of Stockton, Illinois, passed away on September 10. He was 95.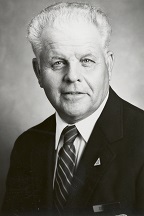 He was a founding member of the National Ground Water Association in 1947 and later served as president in 1995. His son, Larry, also served as president in 2004, putting them in rare company.
Glenn received NGWA's Life Member Award in 2007 and the Ross L. Oliver Award—the most prestigious award given by NGWA—in 2003. He was a third-generation owner of Lyons Well Drilling Co. Inc. and helped get the water well drilling law passed in Illinois.
Glenn served in the U.S. Army Air Corps during World War II as a bomber pilot and participated in the Manhattan Project.
Click here to read more.