Fletcher Driscoll, Ph.D., PG, author of the book on thousands of bookshelves of groundwater professionals, Groundwater & Wells, second edition, passed away on March 8. He was 90.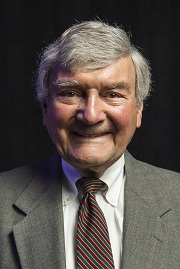 Driscoll, principal of the firm, Fletcher Driscoll & Associates LLC in Dellwood, Minnesota, specialized in water supply, design, and construction of water wells and the occurrence, fate, and transport of contaminants in groundwater.
While employed for Johnson Screens Co. in 1986, Driscoll authored and edited the second edition of Groundwater & Wells, which sold more than 150,000 copies and is still revered today by many in the groundwater industry.
Driscoll also instructed more than 500 continuing education programs for scientists, engineers, and lawyers over a 20-year period, and gave expert testimony at numerous trials, mediations, arbitrations, and hearings involving groundwater contamination.
Given the NGWA Life Member Award in 2002, Driscoll was honored by NGWA with the Ross L. Oliver Award in 2018, which is the Association's most prestigious award and presented to a member who has made outstanding contributions to the groundwater industry.
He was also given the Keith E. Anderson Award from NGWA's Scientists and Engineers Section in 1987 for outstanding contributions made to NGWA.
NGWA convened the Pillars of Groundwater Innovation Conference in 2013 in Phoenix, Arizona, which was based on the work and research of four accomplished scientists and practitioners who have made significant contributions to hydrogeology. Driscoll was one of the four professionals recognized and spoke and participated at the event.
"He was one who could take complex information and distill it, so the average person understood it," said Kathy Butcher, the former NGWA director of education who worked with Driscoll numerous times on groundwater professional development offerings. "He was a fabulous teacher and always a gentleman."