Nearly 50 meetings with congressional and administrative offices were held during the 2022 NGWA Smart Water Policies Virtual Fly-In, April 26-27. The first-of-its-kind event saw 16 states represented, with more than 250 members of NGWA and the Water Quality Association attending policy seminars over both days.
Attendees met virtually with their representatives in Washington, D.C., and discussed PFAS (per- and polyfluoroalkyl substances), geothermal tax credits, workforce development and CDL (commercial driver's license) training, managed aquifer recharge (MAR), and the National Ground-Water Monitoring Network.
Virtual policy seminars were held both days of the Fly-In. The first day's session, "State of The Industry: Federal Action on Water Quality," featured Representative Debbie Dingell (D-Michigan), Representative David Valadao (R-California), and Under Secretary for Rural Development at the U.S. Department of Agriculture Xochitl Torres Small.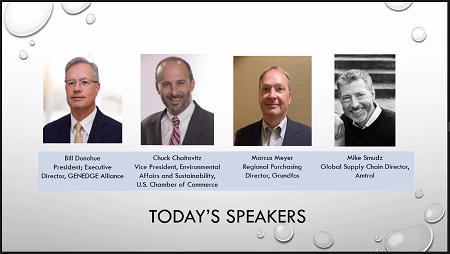 Two NGWA members — Mike Smudz, Amtrol global supply chain director, and Marcus Meyers, regional purchasing director for Grundfos — were part of the second day's roundtable discussion during the virtual educational briefing, "Navigating Supply Chain Disruption." The panel of industry experts discussed causes of supply chain disruption and how businesses have pivoted in response.
"Our industry is unique in that it's truly impacted by a wide range of issues coming out of Congress," said NGWA President Brian Snelten, PG, "and I think it's a testament to our membership that they take the time to learn about and advocate for these issues. While I'm looking forward to an in-person Fly-In next year, I think we were able to make a real impact this year on behalf of NGWA and its members."
To download the NGWA policy kit for the 2022 Fly-In, visit SmartWaterPolicies.com. The site serves as a one-stop resource for lawmakers, researchers, and water industry professionals to access NGWA white papers, policy positions, and tools to contact their elected representatives.
For more information, email Ben Frech, NGWA public relations and government affairs manager, at bfrech@ngwa.org or call (800) 551-7379, ext. 1570.